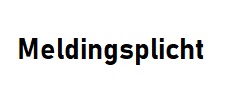 Meldingsplicht voor buitenlandse dienstverrichters
Meldingsplicht voor buitenlandse dienstverrichters
Vanaf 1 maart 2020 zijn de werkgevers (dienstverrichters) en zelfstandigen uit landen binnen de Europese Economische Ruimte en Zwitserland, die een tijdelijke opdracht in Nederland uitvoeren verplicht om vooraf een melding te doen bij het online meldloket van Ministerie van Sociale Zaken. Zij moeten in Nederland aangeven welke werkzaamheden zij zullen verrichten, in welke periode en of zij de werknemers meebrengen. Vanaf 10 februari 2020 bestaat er mogelijkheid om uw diensten die op of na 1 maart 2020 beginnen te melden. Tijdelijke opdrachten die gestart zijn vóór 1 maart 2020 hoeven niet gemeld te worden, maar de verlenging van opdrachten (na 1 maart 2020) die eerder zijn ingegaan moeten wel worden gemeld.
Voor Nederlandse opdrachtgever
De meldingsplicht is niet alleen relevant voor buitenlandse onderneming, maar ook voor de Nederlandse opdrachtgever. De Nederlandse opdrachtgever die werkzaamheden laat verrichten door de buitenlandse onderneming moet namelijk controleren of de melding is gedaan en of de gemelde informatie correct is. Wil je als opdrachtgever het risico om een boete te krijgen voorkomen, dan moet je deze controle uiterlijk vijf dagen na aanvang van de werkzaamheden uitvoeren.
Contactpersoon in Nederland
Elke buitenlandse werkgever (dienstverrichter) is verplicht om een contactpersoon in Nederland te hebben die alle vragen over de detachering kan beantwoorden. De naam van de contactpersoon moet ook worden vermeld als onderdeel van de meldingsplicht.
Meer weten?
Heeft u vragen over deze nieuwe meldingsplicht? Neem dan contact met ons op.