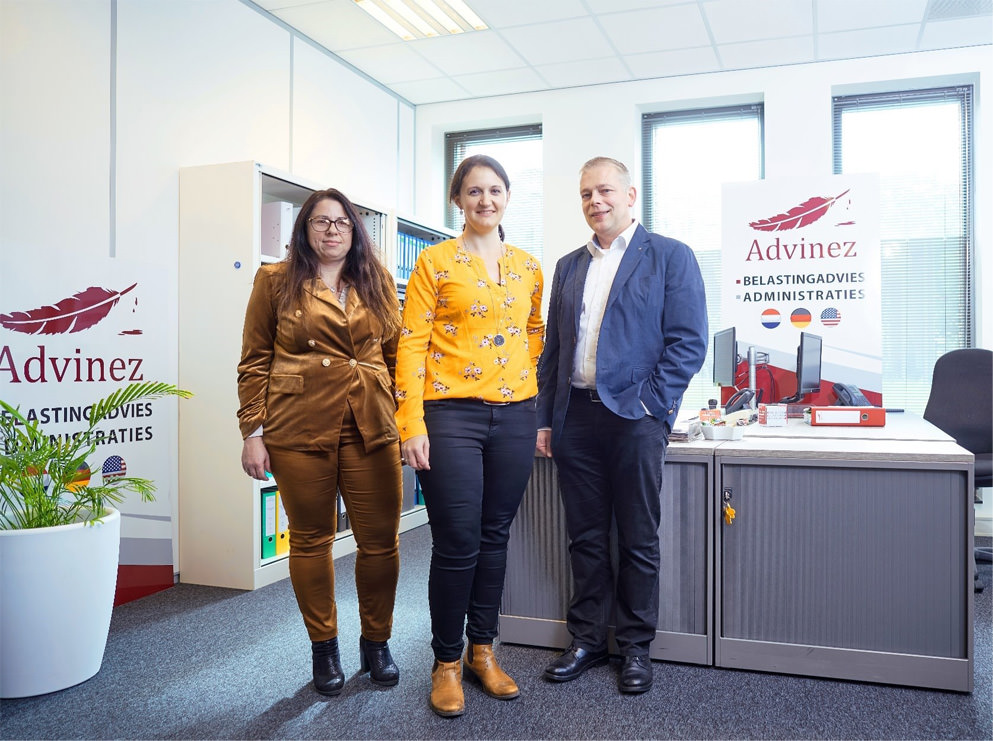 Advinez
Advinez Nederland BV
Advinez Nederland offers administrative & tax services, ICT services and secondment. Advinez Nederland is the administrative office for SMEs, starting entrepreneurs and freelancers. Advinez Nederland is the tax advisor for the Business and works between the Netherlands and Germany and between the Netherlands and Poland.
Nadja Elferink, Tax Adviser RB
"My name is Nadja Elferink. In Germany I completed my first training as a financial administrative assistant. After that I studied Accountancy at Saxion University of Applied Sciences in Enschede and obtained my diploma in 2011. Since 2011 I have fulfilled the position of Tax Advisor and Director at Advinez Nederland BV. I am particularly specialized in cross-border tax advice and administrative and tax services between the Netherlands and Germany. "
Denis Elferink, IT Advisor
"I have been working for 20 years in various positions in IT. I am particularly specialized in migration processes at large organizations where software is packaged, the automated roll-out of software installations and support in setting up workspace management. Products I work with include RES (Ivanti), Microsoft SCCM, Microsoft App-V, Adminstudio, VMWare, Hyper-V and Xendesktop. "
Daniela Grabowska, Tax Assistant
"May I introduce myself? My name is Daniela Grabowska. I emigrated to the Netherlands in 2008 from Koszalin, a town in Western Pomerania in Poland. In 2016 I started a BBL course Business Administrator and in 2019 I successfully obtained my diploma . At Advinez Nederland BV I have been working as a business administrator and am responsible for administrative services since 2017. I also support the Tax Advisor with tax services between the Netherlands and Poland. Previously I did a one-year internship at an employment agency and worked as a care assistant. "
Our Motto
"Your success is our mission"
Our services
Tailored advice
Each company is unique. We offer you a free advisory conversation without obligation. Contact us for more information.
Administration / taxes
From A to Z. We offer a complete range of services, from advise till doing the complete administration.
Increase productivity
Our motto: Your succes is our mission! We think along with you how to get the highest possible return.